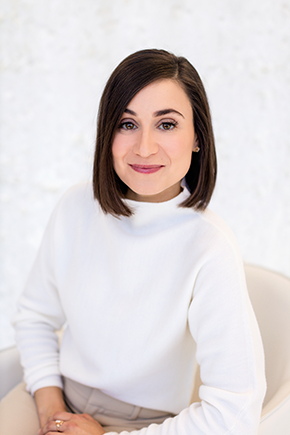 Marcella Galizia, MA, RPsych Director, Couples Reconnect
I am a registered psychologist and director of Couples Reconnect, a branch of Calgary Reconnect Counselling Group.
My approach to therapy centers on relationships and healthy, secure attachments. Relationships are key to how we experience the world, as children and as adults.
When you are a child, the most important relationship is with your parents.

When you are an adult, your most important relationship is with your spouse or partner.
Although issues of attachment begin in childhood, they often remain undetected until they manifest in a magnified, deeper way as adults, in our relationship as a couple and when we become parents ourselves. That's because attachment patterns have a natural tendency to repeat, and unprocessed trauma impacts our relationships—with the main ones being our partner and children. The effects also compound over time, as we inadvertently bring additional layers of unhealthy patterns into our current relationship from previous ones.
Something similar happens with trauma (any experience that overwhelms the central nervous system), which each partner's brain stores in a unique way, within their own neural pathways. Trauma is individualized; even when a traumatic event is experienced simultaneously, it affects each person in a different way. To help couples build secure, healthy connections in their relationship, I typically work through the attachment patterns and childhood trauma with each partner, targeting their individual health and wellness, in preparation for couples therapy. As part of the CRCG team, I also consult on cases to confirm that couples therapy could be effective.
When couples are ready to process together as a unit, my approach can involve a specialized therapy called Eye Movement Desensitization and Reprocessing (EMDR) Therapy. I have training in unique protocols such as the Recent Traumatic Episode Protocol (EMDR R-TEP) and Group Traumatic Episode Protocol (EMDR G-TEP), which allows me to reprocess traumas together as a unit and with both partners present. Using EMDR Therapy in a trauma-centred group protocol has shown me its power to bring a sense of unity, common humanity, closeness, and connection. In the aftermath of a recent traumatic event experienced as a couple, such as infidelity or the loss of a child, EMDR therapy strengthens the couple's closeness, because the healing is experienced together.
I am a registered psychologist with the College of Alberta Psychologists, and a member of the Canadian Counselling and Psychotherapy Association (CCPA) and the Psychologists Association of Alberta (PAA). I have completed advanced training for Eye Movement Desensitization and Reprocessing (EMDR) Therapy, including protocols that can be used with couples or families. I have also trained in Gottman Therapy techniques and completed an Externship in Emotionally Focused Couples Therapy® with the International Centre for Excellence in Emotionally Focused Therapy (ICEEFT).
Couples Reconnect, a branch of Calgary Reconnect Counselling Group, acknowledges that we are gathered on Treaty 7 territory, the original home of the Blackfoot Confederacy, comprised of the Siksika, Piikani, and Kanai First Nations; the Stoney Nakoda, comprised of the Chiniki, Wesley, and Bearspaw First Nations; and the Tsuut'ina First Nation.  This territory is also home to the Métis Nation of Alberta, Region 3 within the historical Northwest Métis homeland. Located on this traditional territory, our mission is to spark reconnection and healing within kids, parents, and families. We do this work with respect for these First Nations and in a spirit of humility, kindness, inclusion, and diversity.